Has it been a while since you've been diving? Want to get back in the water but don't know where to start?
PADI offers two different courses to help you refresh your scuba diving knowledge and skills: the PADI ReActivate Course and the PADI Refresher Course. The PADI ReActivate Course is a course for certified divers that want to refresh all the diving skills they learn during the Open Water Course. The course consists of online theory, confined water session and an optional open water session. The Refresher Course can be done in a few hours and before open water dives. It consists of a quiz and practicing in-water skills.
To do a Refresher or ReActivate course, you need to have an entry level certification from any organization. Whether to do a PADI Refresher or ReActive Course depends on how long you've been out of the water and your certification level. It's recommended to do a PADI Refresher if you've been out of the water for longer than a year. If it's been longer than 2 years', the PADI ReActivate Course is the way to go. If you haven't been diving since your initial course, it may be better to consider the PADI ReActivate Course. Both of these courses are useful for people that are a bit apprehensive about scuba diving.
PADI ReActivate
The PADI ReActivate Course is part eLearning where you can watch videos on how to perform the necessary diving skills.  It helps you relearn dive theory. If you have any questions, write them down and make sure to ask your dive instructor when you see them. You'll go over the content from your initial course like: dive planning, equipment assembly and safe diving practices. With your instructor, you can do an in-water session in a pool or confined open water. During the in-water session, you'll go over ALL the skills from your Open Water Course.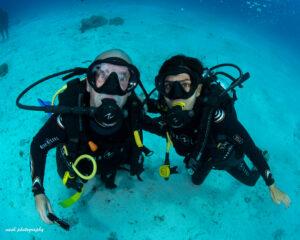 PADI Refresher
In comparison, A PADI Refresher Course is slightly different. It goes over basic diving practices, including alternative air source use, how to clear a mask, setting up and disassembling dive gear, and how to recover your regulator. At the start, complete a quiz which you'll go over with your dive instructor which covers dive theory and safety practices. There is no eLearning as part of this course.
At Aura Divers, we offer both Refresher and ReActivate Courses. Give us a call to discuss which is the best for you!